Licensing always seems to be complicated. That's why we try our best to make it as simple as possible and easy to understand. Here's what you can and cannot do with the resources provided under Pixelo Extended License. Part of what makes Pixelo bundles so valuable is the flexible licensing terms. We want to provide you with resources you can use in a variety of projects, while making sure intellectual property is respected. We also work hard to make sure our contributors get fairly compensated for their work.
All purchases from Pixelo include a single user license, allowing you to download/install the files onto multiple devices, granted that only a single user will access the files across all devices. You must purchase additional licenses for each person who will be using the files
You Can
Use for unlimited personal and commercial projects
Use as part of the end products (digital or physical) for sale
Use on Print On Demand websites, as long as you only upload flattened designs
Use in websites, digital products, and social media
Use in video and media files, as long as the monthly views are less than 1,000,000
You Cannot
Use the elements as the primary design element within a design, you must combine resources with other original design work. Your final designs should not use elements as-is, ie. they have to be creatively combined with your own custom design elements.
Redistribute, sublicense, sell, give-away or share resources.
Upload resources on a server that will allow unlicensed users to utilize the resources.
RESOURCE SPECIFIC LICENSING DETAILS
FONTS
You Can
Use the fonts in personal or commercial client projects.
Use the fonts in social media profiles, websites, custom logo design and e-books.
Use the fonts to create phrases or quotes for sale on physical items like t-shirts, bags, mugs, cards and other products.
Use the fonts to create flattened designs to be sold on Print-On-Demand sites. The final design should be flattened and the font file should not be uploaded to the website.
Use the fonts in videos or media productions where the views are restricted to 1,000,000 views per month.
You Cannot
Create digital alphabets, stencils or logo templates for sale.
Embed the font files within a desktop or mobile application or Print On Demand website where non-licensed third party users can make use of the fonts.
Create a digital product that consists of only letters and alphabets of a font.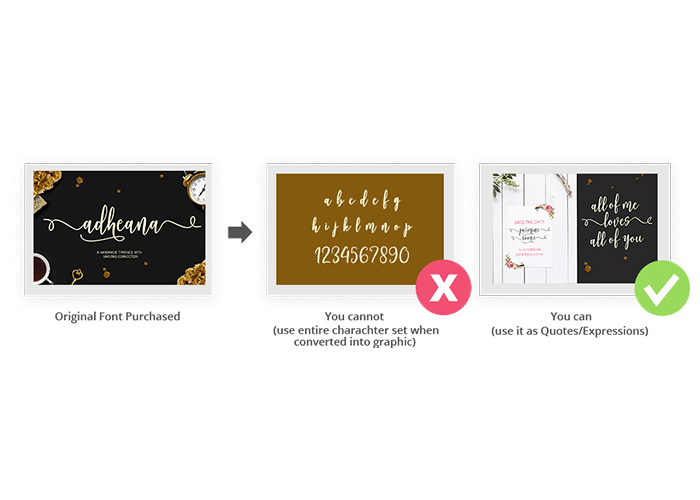 GRAPHIC RESOURCES
(Vectors/Illustrations, Textures/Backgrounds,
Patterns, Mockup Templates)
You Can
Create original designs where the given resource is NOT a significant part of the design, this can for physical items or digital items.
Create original designs and upload it to Print on Demand websites as a flattened design.
Use designs within videos or media productions where the views are restricted to 1,000,000 per month.
Use Mockup Templates to showcase original designs, for physical or digital mockups.
You Cannot
Use graphic resource as-is to sell on Print on Demand websites as an add on or individual product.
Break up the graphic resource (Vectors, Illustrations, Mockups, Bundles) and resell or give-away or distribute them in whole or parts.
Embed the unmodified graphic resource into any software or third party website.
Provide source files to any third party where individual elements can be extracted.
Use the graphic resource as the key component in a logo without significant design modifications.