5 Ways To Promote Personalisation Through Web-To-Print & Design Templates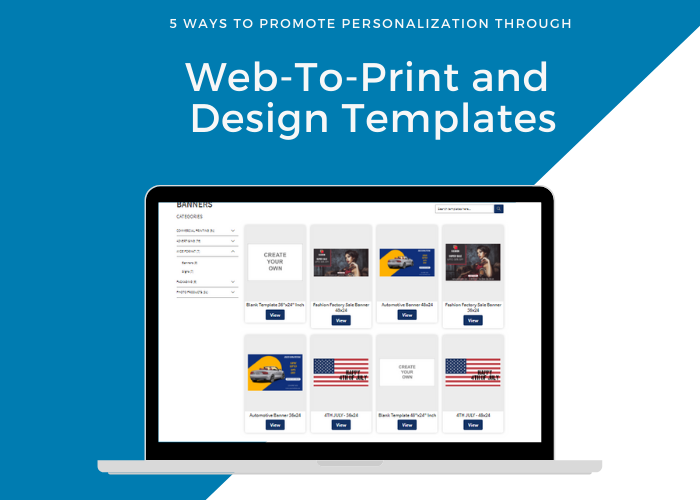 When it comes to print products, customization is the name of the game. Modern web-to-print software streamlines the ordering and fulfillment process for printing companies, but it also does so much more.
Web-to-print offers a wealth of personalization options to help the end-customers unlock the full potential of the design templates. As a result, the sky's the limit for designing printed t-shirts, mugs, greeting cards, uniforms, marketing collateral.
With the right templates and a reliable list of vendors to source the products for you in the arsenal, printing companies can make it big with their offerings.
If you are in a similar boat and want to sell print-ready, customizable templates on your print store, here are five best practices to keep in mind that will help you maximize your offerings:
1. Make your templates with a Web-To-Print solution
When you opt for web-to-print software, there is a built-in editor (also known as the design studio) for you to create your design templates. Alternatively, you can opt for third-party software, which solely focuses on the design bit.
But while the built-in design editor is a convenient option, its capabilities will never match the power and professional finish of design software such as InDesign, Illustrator, or Adobe Photoshop. So it simply would not happen!
Therefore, the best option for crafting high-quality templates is to go for third-party software that is compatible with Adobe Photoshop or a similar tool one your end customers or their designers are familiar with.
In this regard, please make sure that the product design software you pick is superior and capable of customizing files created with the design tools often used by designers.
2. Automate the process of creating designs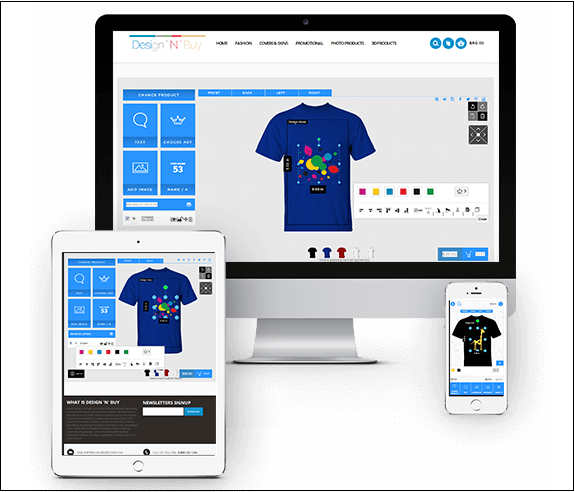 Having hundreds and thousands of files to accommodate every little customization can be extremely tedious. Automating the design creation process frees up both time and storage space for you and gives the customers the flexibility they want to design their products.
Think it through from the customer's POV. They do not want to land on your website and haggle through the product pages only to find that they will now have to connect with a sales rep to place an order.
When you allow your customers to create designs on the website itself, there is a greater chance they would place an order and close the buying cycle without pondering over the sale too much. There are no middlemen or unnecessary to-and-fro involved.
a. Use a master template
One way of automating the design creation process is by uploading a master template and then adding rules for how the template should be formatted to different sizes and dimensions on the online design tool.
This way, when the customers choose a template and define their preferred size, the tweaked template automatically shows up. Plus, they do not have to be design pros to create something from scratch. Instead, they can pick a template and customize it — simple!
b. Connect design elements with a database
Another way is to connect certain types of templates, like calendars or planners, to an external database so that the dates are automatically updated each year without the designer having to redo the template.
3. Make the templates as flexible as possible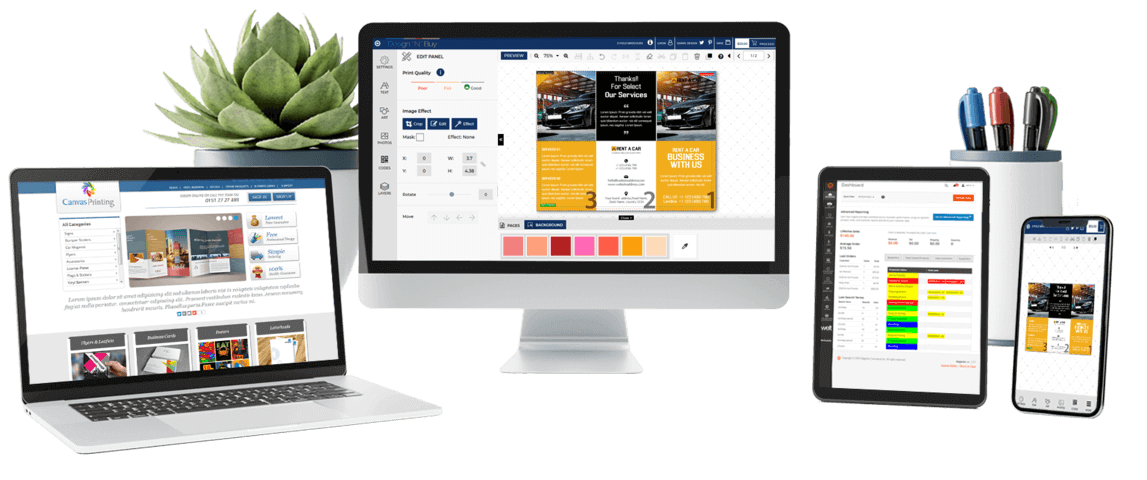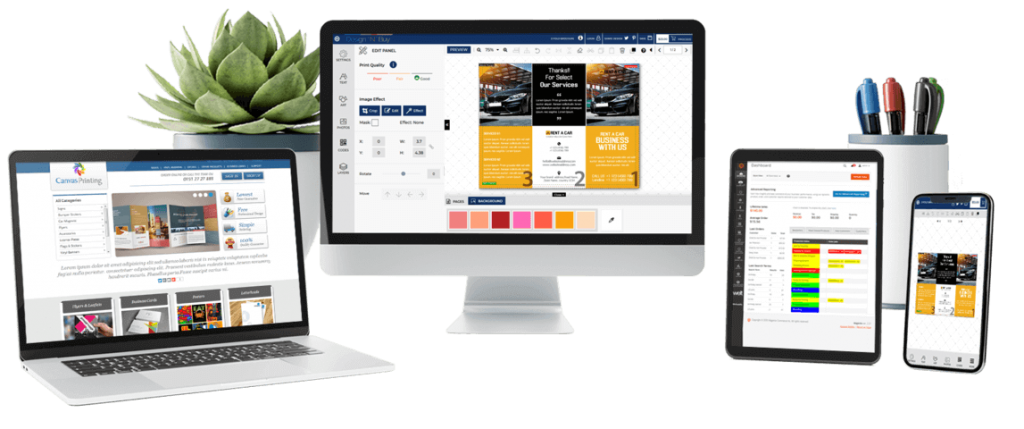 In addition to automation, make sure your design templates come with as much flexibility as possible so that your customer can have the exact design she is looking for. Here are four functionalities you can give to your customers:
a. Colors
Color is one of the essential elements that everyone should tweak, including color gradients and textures. Your design templates should also have flexible layouts and styles, which instantly expand the range of possibilities without overloading your design library.
b. Live preview
Depending on the web-to-print software you choose, you can even show a live 3D preview of the design templates your customers work on. That way, they would have a clearer idea regarding how the design would look printed on the desired product.
c. Photo, clipart, and font library
Your customers should also have the flexibility to upload photos from their mobile phones or desktops or import them from file-sharing platforms like Dropbox and Flickr for customizing the templates. Of course, offering them an extensive font and clip art library also goes without saying.
d. Anchoring
Another handy feature is anchoring, particularly for corporate clients. It enables the intuitive input of contact info across different templates, ensuring consistency and speeding up the design process. Again, make sure your web-to-print solution allows this.
4. Add product information as well
Like your customers, your employees and vendors also need to use the templates easily during product printing.
You can assist this by placing information such as selected color and texture or crop marks for finishing within the template itself.
For instance, in the case of sweater templates, you can share information about the selected color, thickness, pattern, and other options with the manufacturer.
This would bring down the errors in the production stage, and your customers would get printed products without any hassle or delay.
Web-to-print allows you to automate even the tiniest of things in the printing process. Make full use of that and ensure your customers are happy with your service at the end of the day. It is all that matters!
5. Give your customer a feel of the actual product
An excellent web-to-print online designer will include an extra set of options to help customers get an idea of what their finished product will look like — a helpful step as designs often look very different in 3D than 2D.
For instance, you can add various filters that mimic the texture of different print materials, like glossy paper, matte paper, cardboard, wool, cotton, corrugated cardboard, and so on. In the case of clothing, you share numerous options like silk, linen, wool, cotton, and nylon.
You can also add mockups of various frames or backgrounds — especially if you are dealing with photo canvas products. Using additional layers to imitate the canvas texture can make it easier for your customers to visualize the product.
Also, allow them to oscillate between different page stock options for their business cards or corporate brochures. This feature will help customers make a more informed choice, thus boosting the likelihood of a purchase.
Characteristics of a trustworthy web-to-print template
Not all templates are equal in terms of quality, flexibility, and affordability. Naturally, you want to be known as a design business that offers top-notch products without charging too much. However, compromising on quality for the sake of lowering prices is not advisable either.
Here are some features that all of your templates should have, without exception, if you are seeking to maximize your credibility:
a. Striking design
Whether it is a brochure, a template, or a piece of wall art, your templates need to be striking enough that customers will instantly want to have them for themselves.
b. Ease of formatting
To ensure that the printed versions of your templates are as eye-catching as the digital ones, make sure that your template is pre-formatted with the appropriate size, resolution, material type, and color.
It should also accommodate any cuts or bleeds to avoid leaving a blank white frame around the design. It is not the responsibility of your customers to look after such details.
c. Compatibility
Your templates need to be flexible enough to accommodate any logos, slogans, and text blocks that the customer wants to add.
d. Reasonable prices
While excessively low prices can compromise quality, your prices should be significantly lower than custom-made template options so that customers feel justified in springing for your services. Plus, it gives them an opportunity to design themselves. Everyone wins!
e. Reputed vendors
It would be best if you vetted each of the vendors you sign on to ensure that they have experience using the kinds of templates you offer. The finished products are delivered on time and are of the highest possible quality.
If the material is not of high quality, it will hamper the way the designs look after printing. So you cannot take a risk with that.
f. Customer support
Your customers should be able to reach you easily if they need to. What if they get stuck during the personalization process and want to quickly seek help? Have specified business hours for live chat or calls and have a 24×7 chatbot service enabled as well.
Have a response time guarantee, such as 24 or 48 hours, and then stick to that every time. Alternatively, you can also deploy a chatbot that can take care of simple queries, and redirect the complicated ones to your customer service team.
For small businesses or individuals that cannot afford to stock custom-designed templates, web-to-print templates are an excellent route to go for. As long as you choose the right software that offers your ideal degree of functionality and flexibility at a competitive price, you are on the right track to building a print business that wows your customers.