Top 10 Gothic Fonts To Design Your Next Logo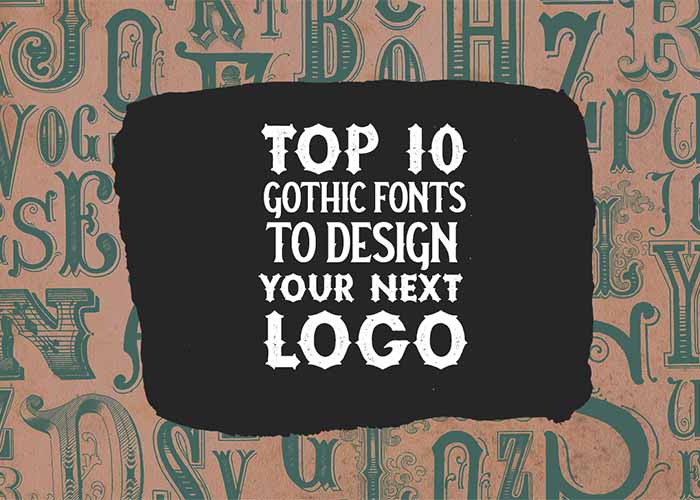 There's something strikingly appealing about the structure of the gothic font. It can transform any typographical design look stunning and impressive, and it's undoubtedly why gothic fonts are extensively used throughout signage and logo design. If you've been hunting for a cool Gothic font for a new venture, you're lucky. Some people spend many hours trying to choose the right font and design. And someone is looking for a good writing services website, to find the right assistant to create an unforgettable text. We've carefully selected the most delicate gothic fonts with many layout patterns that you can use to design logos, comic books, flyers, blog templates, and much more. Discover the selection and start downloading it!
California Style By Rvq Type Foundry
California style is a modern font from Rvq type foundry, designed as a dual-purpose font. To make a fantastic blend, combine your letters with alternate symbols and Orn vang. California style provides a complete range of capitalizing and lowercase letters and multiple language assistance, currency figures, prefixes, punctuation, and some additional graphic symbols. This font is excellent for labeling, logo design, birthday cards, invites, clothing, packing designs, banners, or as free scary fonts etc.
Armstrong Typeface By Rvq Type Foundry
Bring your designs a unique, personalized touch with Armstrong. This font is designed specifically for the layout of the signature logo. If you'd like a simple logo that feels like it's crafted by hand, you could go with Armstrong. You may use Armstrong to create curves and arcs of characters in your Logo.
The Wednesday By Rvq Type Foundry
Wednesday is the Logo's decorative black letter font style and is a unique hand-written font. It is an amazingly credible and adventurous sort of black text. This type of font is specifically designed to be used in logo design. It has a simplistic smooth glow and is a great way to add a personalized feel to your logos. Insert this font to your favorite innovative ideas, and then see how it helps them look unique!
Riotic Typeface By Rvq Type Foundry
Riotic typeface is an ideal font for many innovative products and logo designs. Moreover, It's a modernistic font with a straight, minimalistic, trendy, and antique feel character set. Such a variety of ideal fonts fits with the logo theme. It comes with two models, clean and rugged. If you're hoping for a quick look for your logo design, then the Riotic typeface must be your priority.
Hours type By Rvq Type Foundry
It's a hand-brushed font made with a brush and a pigment. Hours type font incorporates curved lines and genuine "edge spurs" that are the natural end of a well-executed brush stroke. Hours Type Font would look gorgeous on Logo, party invites, headers, branding products, quotations, t-shirts, and any other awesome projects you're working on.
Cool Urban 90's Gothic Font By DoffDog
Bring the robust and fast-paced essence of heavy metal music to your next design when you're using the Cool Urban 90s. Cool Urban 90's is a Gothic artistic font with heavy rock music influenced by retro typography. It's great for logos, posters, headlines, clothing, and more. Take a glance at this rock and steel-inspired typeface with its innovative combination of geometric shapes and bent edges ideally suited to your logo design.
Aseina Gothic Typeface By Rvq Type Foundry
Aseina is a typeface designed to be sophisticated, sleek, and with a subtle polished look. To create the perfect mixture, combine the uppercase and lowercase, and then connect with the substitute symbols for flexible letter settings. It brings a special kind of aura to your Logo that allows it distinctive and very popular. And you can use this font to develop your logo design skills.
Neue Stanley By Twicolabs Fontdation
Neue Stanley By Twicolabs Fontdation is a Classic serif font with a solid, smooth, and crisp character. This font is influenced by the traditional characters used throughout old ads (posters, labels, etc.). Mouse-made with strong attention to detail. If you're focusing on contemporary or conventional themed logos, this font should be a must on your array of fonts.
Dublin Typeface By Twicolabs Foundation
DUBLIN is a lightweight and sleek typeface for posters, complete text, packaging, logotypes, and screen use. This all-caps typeface is excellent for making excellent logos, advertising material, and promotional illustrations that can draw the visitors' attention.
10. Carlingford Gothic Font By Twicolabs Foundation
Carlingford is a classic-style font influenced by old ads and advertising letters. It was built with great attention to subtle shading and specifications. Carlingford a must-have font for any form and word junkie, loaded with a lot of open-type characteristics, interchangeable characters, thematic collections, ligatures, and optional syntaxes.