10 Vintage Decorative Fonts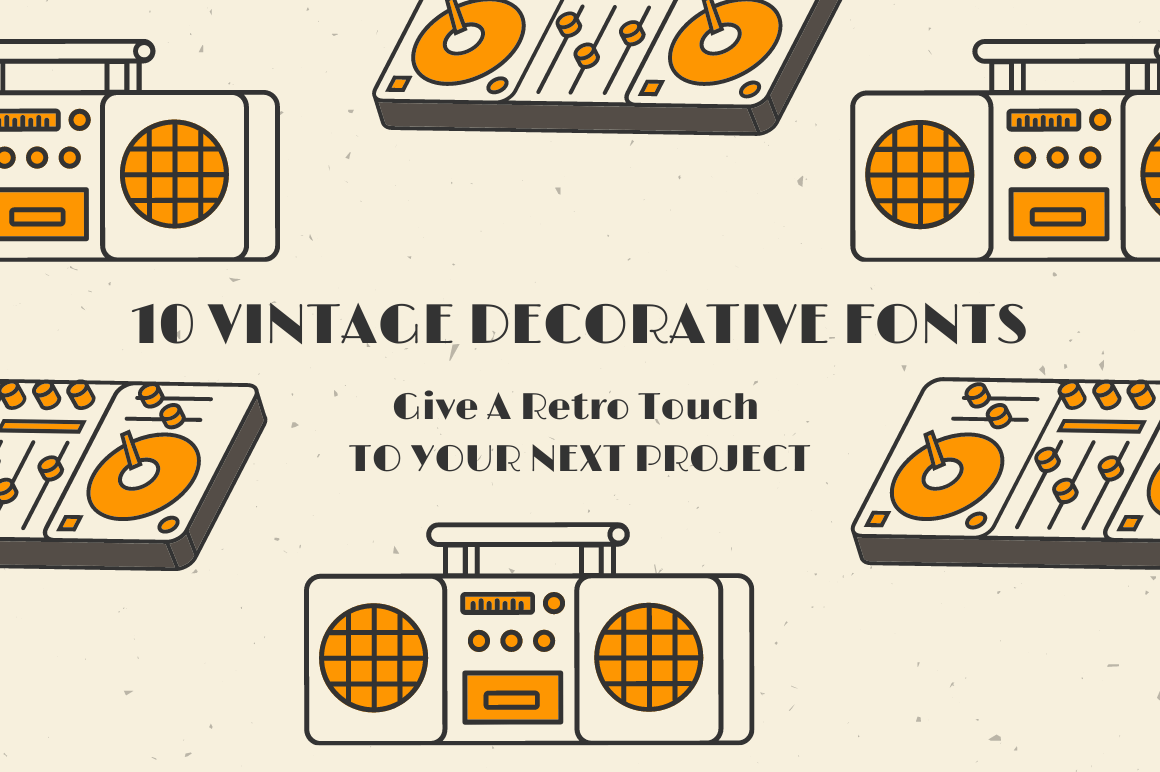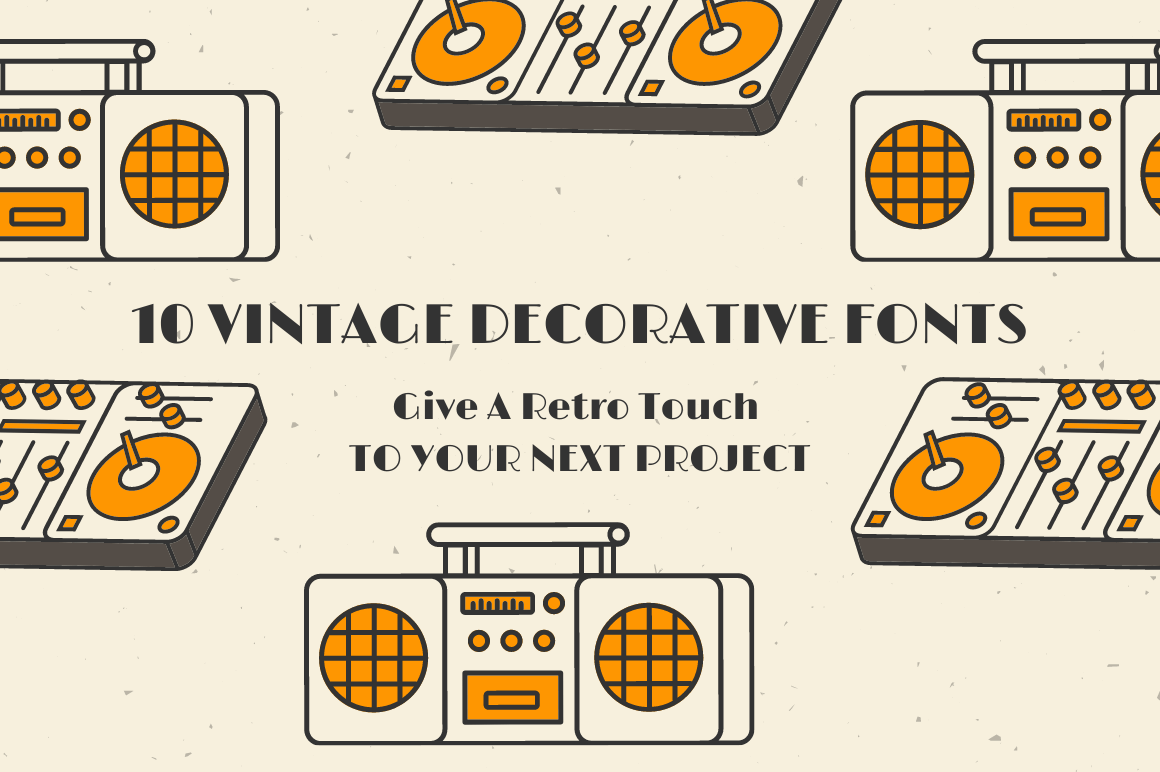 Are you a graphics designer or a design enthusiast? Why not try using vintage fonts for your art projects? Even after the innovations of modern technology, we still incline to idealize the past, especially when it comes to art. 
It cannot be denied that vintage calligraphy and graphics still radiates elegance and beauty up to the present time. A vintage creative font can give off a retro and nostalgic vibe to your artwork or design that makes it timeless. 
This font serves as a powerful bridge that connects the old times to the present day. It is indeed an elegant combination of art and culture that is hardly achieved when using other font styles. Plus, they never go out of style and are a great way to add that retro vibe to your piece of art. Creative vintage font can also be beneficial for your academic design project and make it look more professional and stylish", says Helene Cue, academic writing expert and educational advisor at GetGoodGrade writing site.
Below are some of the best decorative fonts that you can choose to boost that retro vibe in your project designs or print collection.
This font style from HansCo is a Sans Serif that is both classy and lively. It has swirls that add up to its elegant ethnic aura and will give you text a unique retro vibe. Its bold design will look great on quotes, wedding invitations, branding, posters, or any print template, logos, etc. It is available in all caps and lowercase.
Wrongler is brilliantly created by HansCo and is famous for its adventurous effect. This decorative font features a unique blend of antique and modern touch and you can use to boost that retro vibe in your work. This fun and cute handwritten design is best used in brand identity packaging, and logo designs. 
If you are looking for a vintage creative font to add the retro vibe, Mosherif from the HansCo state-of-the-art collection would be a good choice. This is a Sans font that comes in bold caps and brings a modern, clean, and old-fashioned impression. It has a special ligature that stands out from the rest. Moreover, it is a gift from heaven to individuals that love working on homeware layout, magazines, packaging, etc.
Bandits decorative font is a typeface that has the elegance of blackletter or gothic calligraphy. It comes with extra ornaments, multilingual characters, alternate characters, ligatures, punctuations, numerals, and lowercase/uppercase letters. Although HansCo created this as a logo product for coffee brands and packaging label, it can also be used to add retro vibe in quotes and shirt prints.
Blue Spirits is an all uppercase Serif from HansCo that has a sharp, clean, and strong display. Additional ornamental graphics, several ligatures, and alternative characters are fused to create this font style. Thus, it gives off an old-style charisma while boosting the retro vibe. It is a perfect match for signboards, storefronts, stickers, posters, branding, logotypes, letterheads, apparel, and headlines.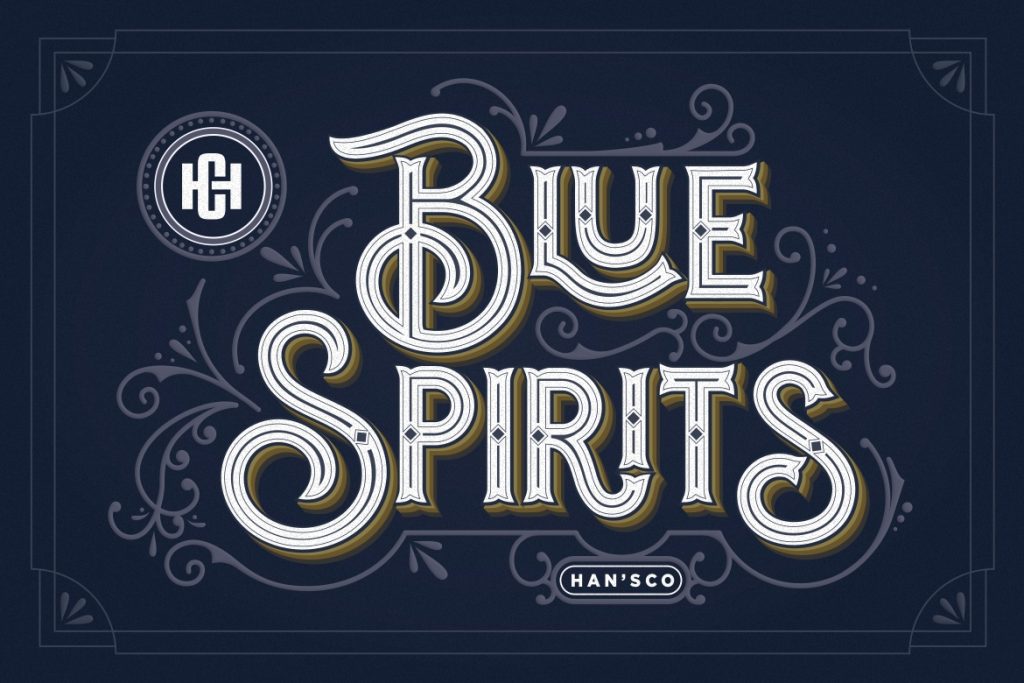 Golden Stanburg is popular for its signature ballpoint design that gives off a classic and elegant retro vibe look. Additionally, it breathes out luxury and romance. Thus, it is ideal for use in wedding invitations, love letters, advertisements, quotes, and logos. This may also come in handy when doing projects for Valentine's day.
If you are looking for a cool and unique decorative font that helps add that retro vibe, then this is what you need. Designed by HansCo, Graphite is a cool, unique and sweet semi-vintage look with blackletter appearance. Also, it is perfect for business cards, labels, packaging, greeting cards, invitations, books, menus, magazines, stationery, posters, and logos.
Tanziladd is the mastermind of this premium font style. It is inspired by both ancient hand lettering and modern calligraphy and gives off a unique retro vibe. It has eye-catching alternative glyphs that are bold, clean, and rough. You can add this artwork to invitation or greeting cards, posters, headlines, packages, badges, shirts, and logos. 
Inspired by freestyle and urban art, Jansky is a decorative font that you can use to add retro vibe to your work. Jansky has a casual design, numerous alternates, font swashes, and rough version. It is a handwritten font style that almost looks like the earliest scripts. It is ideal for creative headers, advertising, and personal branding projects.
Dealjumbo takes pride in producing the Malbroculk font which is inspired by old-style cards and letters. It has smooth lines, an ornamental look, and many stylish alternates that highly resemble ancient calligraphy. You can use this decorative font to get that retro vibe when you are doing advertising or personal imprinting.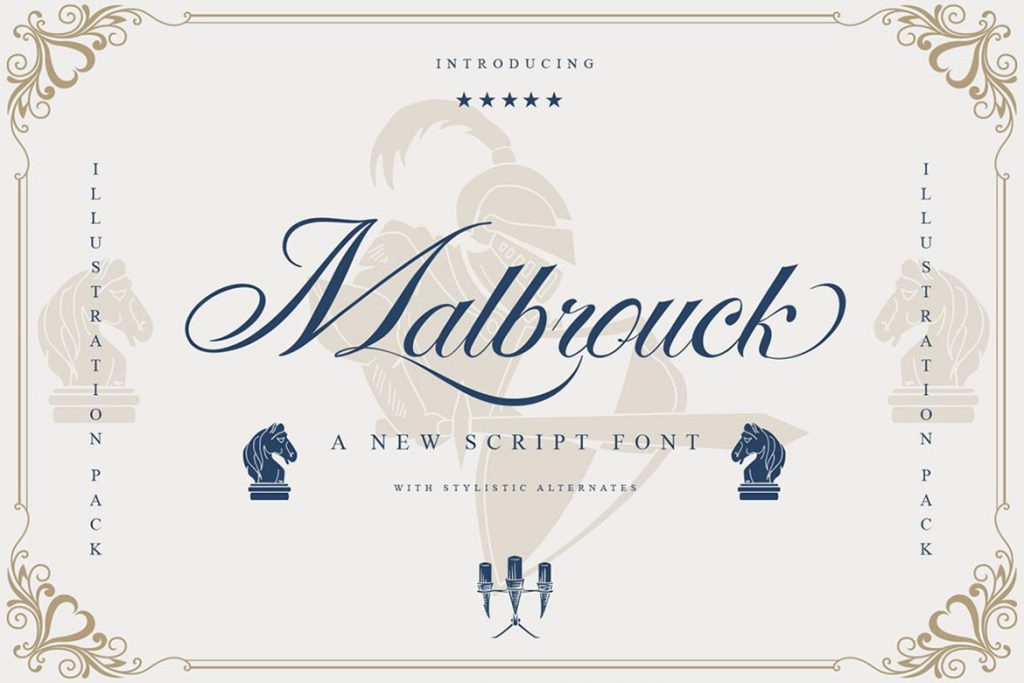 Conclusion
Every decorative font mentioned in this article is a masterpiece you can use to help your work give off a retro vibe. When choosing fonts for your printing projects, always ensure that it can be easily be read by many. Vintage fonts can be so elaborate that it becomes hard to read. 
Another tip when choosing the best vintage creative font is to never be afraid to mix and match your designs. Explore and have fun! Read more about styling vintage fonts.