10 FREE Photoshop Actions – Make Your Photos POP in 5 Minutes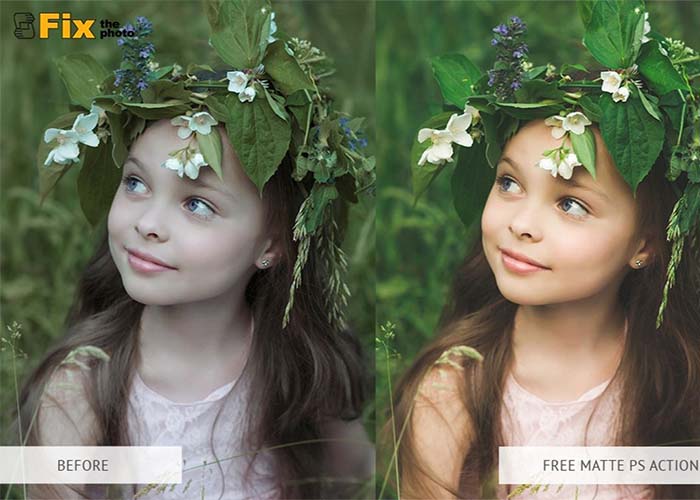 10 FREE Photoshop Actions – Make Your Photos POP in 5 Minutes
Are you a beginning photographer or Instagram blogger who wants to start creating professional-looking shots straight away without learning Photoshop's ins and outs? You can take a shortcut! These 10 FREE Photoshop actions will let you edit your photos like a real pro with only basic skills of working in Photoshop.
What Are Photoshop Actions?
Putting it simply, actions are picture editing steps pre-recorded by photographers or image editors who created them. This photo editing arrangement can then be easily applied to any shot you have in a matter of seconds. They are a powerful time-saving tool that enables you to instantly improve your photos without having to start from scratch and manually go through every single image editing step yourself. It is highly recommended for batch photo editing.
They basically allow you to automate the entire process. Applying actions also ensures a consistent photography style, which will help your photos to be easily recognizable and look stylish in the Instagram feed. All actions edit your photos in a non-destructive way and also allow you to fine-tune the result you get to your taste. Photoshop actions simplify your workflow, bring efficiency and consistency to it. And they do it all for free!
 10 FREE Photoshop Actions
Enhance your photos fast and naturally with these 10 actions. They were created by a team of professional photographers, which means that by downloading these actions, you are essentially taking advantage of the knowledge of these pros. Scroll down and find perfect Photoshop actions for you.
1. Free Photoshop Action for Portraits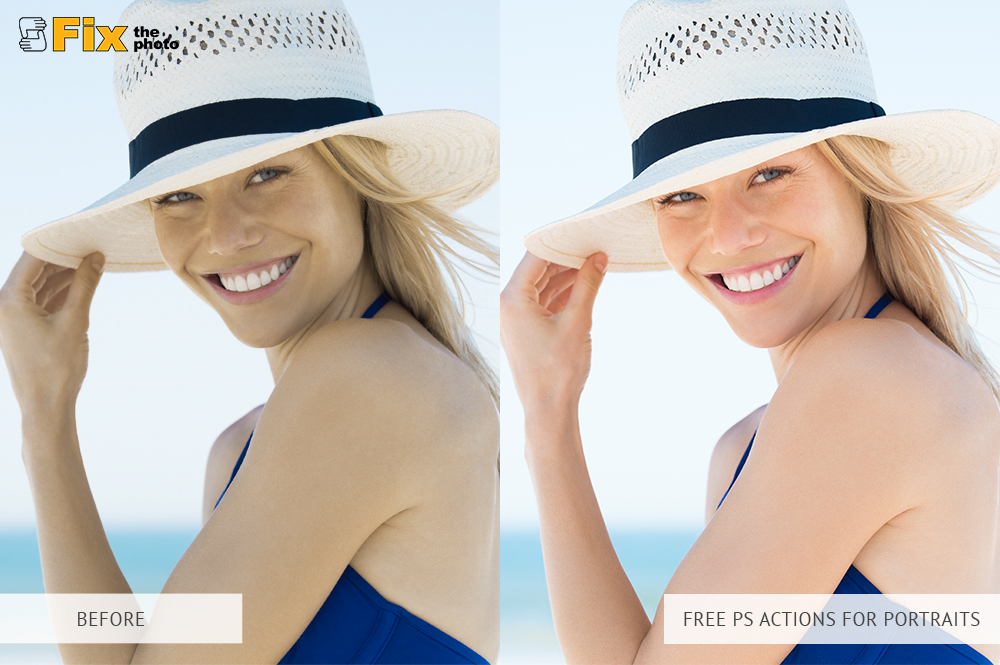 Price: FREE
Recommended: outdoor and studio portraits
This high-quality action is designed to optimize your portraits. As you know, the Best PhotoShop Actions are versatile, and this definitely applies to this action. It will suit a wide range of portrait photos. It's ideal to be used with photos taken in outdoor natural light settings, as well as in the studio. The effect will also work well with both close-up and medium shot portraits. View more Free Photoshop actions for portraits if you often take self-portraits and selfies for the pop effect.
2. Free Vintage Photoshop Action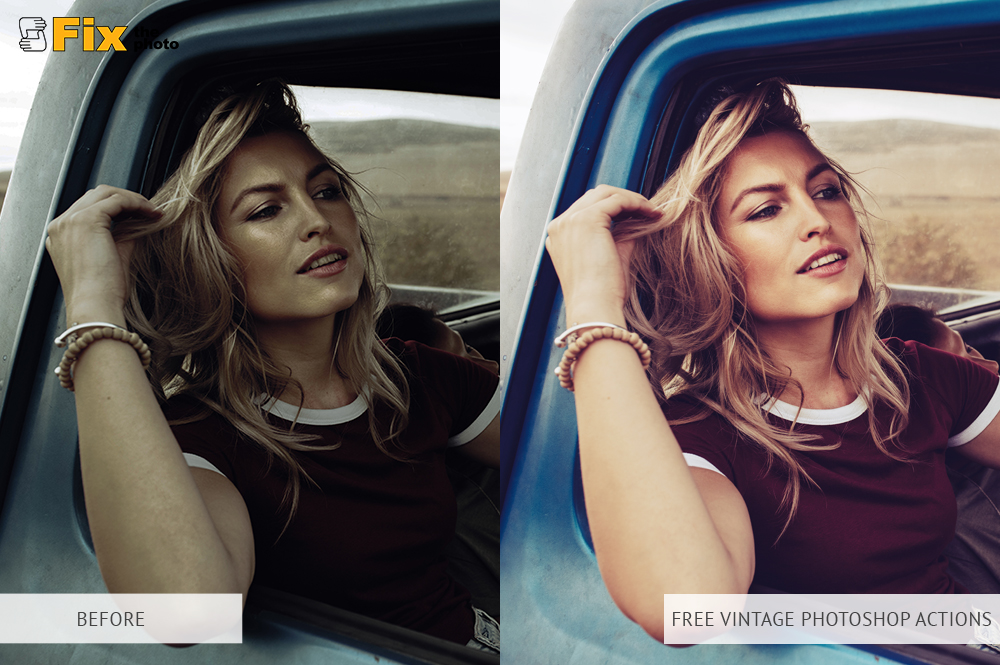 Price: FREE
Recommended: fashion, portrait
This action features a timeless vintage effect that will dramatically transform your fashion and portrait photos. This is one of the best free Photoshop actions to use if you are inspired by the retro look. It will instantly adjust the tone and mood of the shot. Another thing people like about it is that it gives the photos an authentic vintage feel, that doesn't look fake or unnatural, unlike other vintage actions on the web.
3. Free Black&White Photoshop Action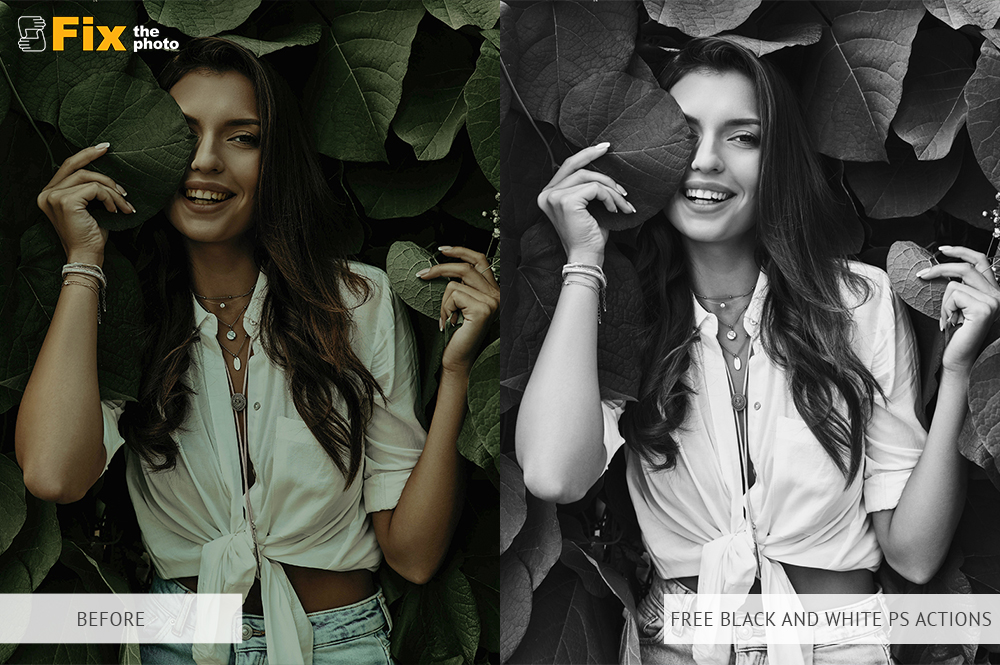 Price: FREE
Recommended: portrait, fashion, street style
You don't necessarily have to spend hours upon hours of picture editing to achieve that perfectly balanced b&w look. This one allows you to add the black and white effect for your photos, with deep and rich blacks at a fraction of time.  Use this action if you want to add drama and intrigue to your shots. You may also use it to hide bad lighting in photos, pulling more focus to the subject. B&W effect will also be helpful if there are too many distracting colors on a photo.
4. Free B&W Photoshop Action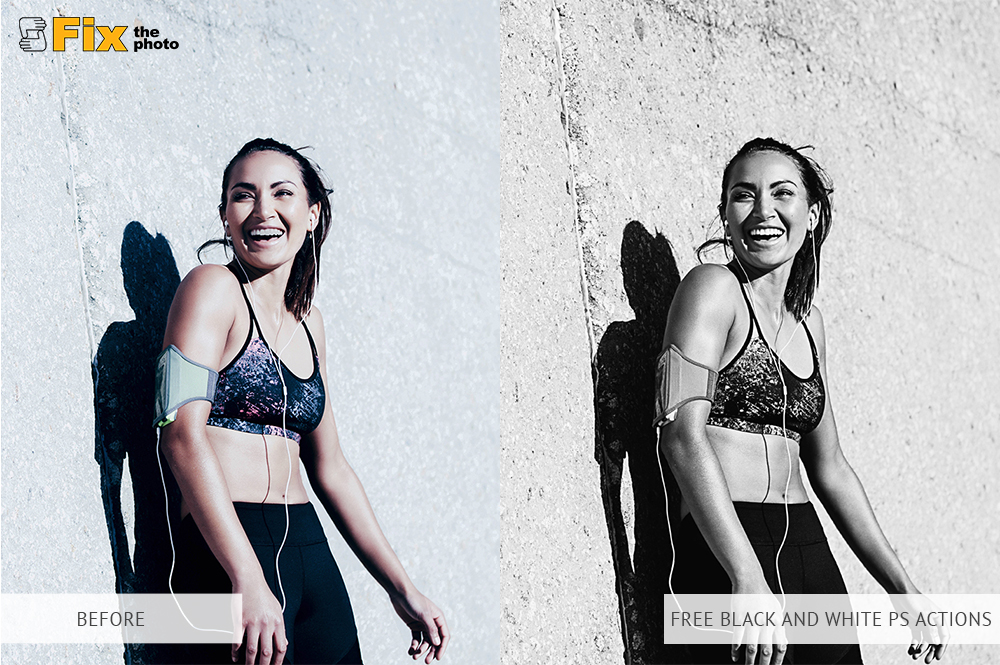 Price: FREE
Recommended: portrait, fashion, street style, wedding, baby
B&W is extremely popular, as it is a classic effect, which works on a range of photographic genres. But regardless of your skill level, b&w shots can be tricky to capture. This is another example of great B&W action to help cope with that task. Apply this stunning Photoshop action to any photo and it will give it a beautiful monochrome finish.
5. Free VSCO Photoshop Action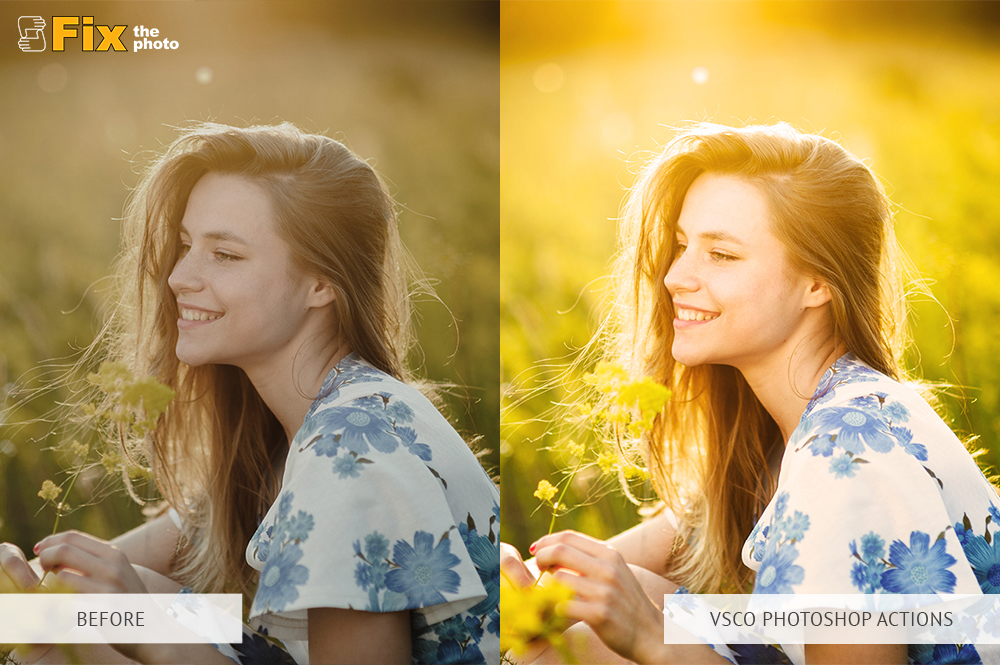 Price: FREE
Recommended: portrait, love stories, wedding
Give your photos a vibrant sunny look using this VSCO action. It adds a summer glow effect to your otherwise dull and flat photo. It works best with images taken outdoors, especially the ones taken in natural light. The pop of warm colors will make your photo impossible to take your eyes off.
6. Free Double Exposure Photoshop Action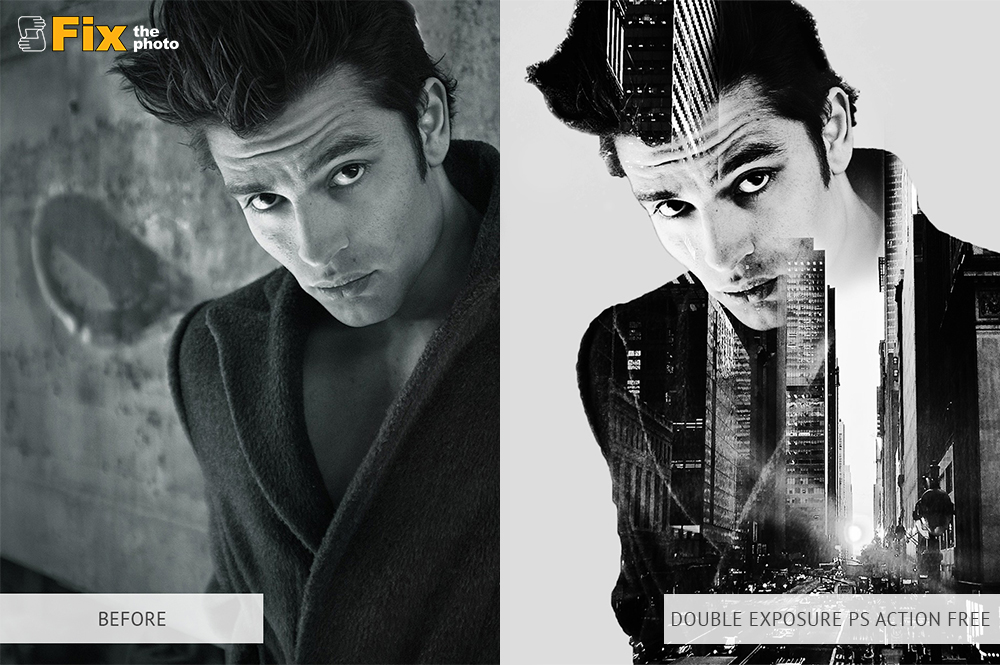 Price: FREE
Recommended: fashion, portrait
This artistic effect is really popular and eye-catching, but impossible to create while shooting. This action solves that problem and will blow you away with the result. It is perfect for fashion and portrait photographers who want to create a stylish shot with a distinct look.
7. Free Newborn Photoshop Action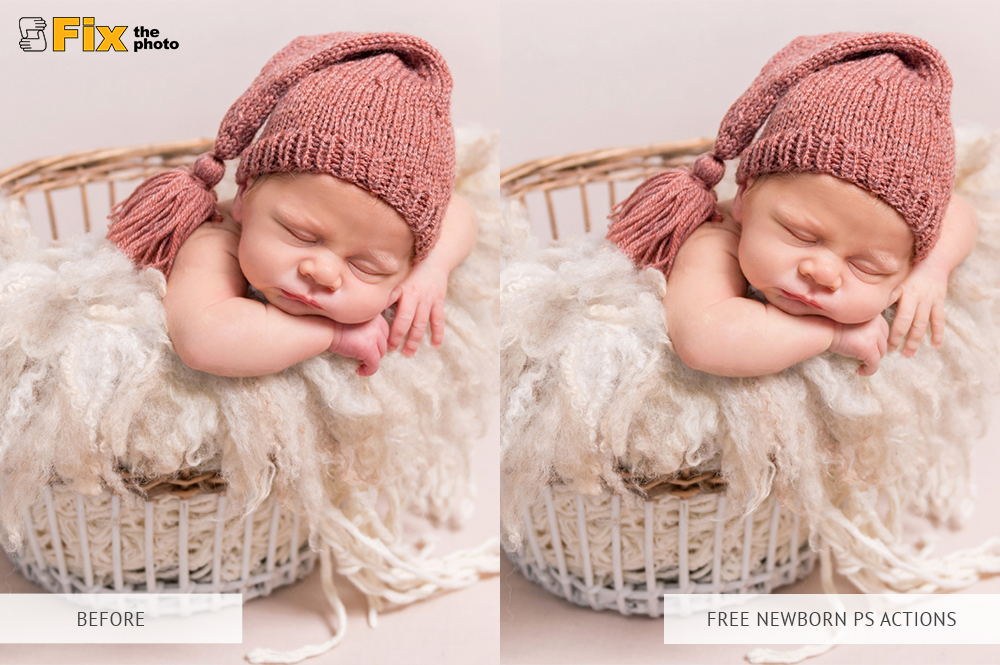 Price: FREE
Recommended: newborn, baby
If you want to make baby photos even more adorable, this is one of the Best Photoshop actions to do that. This action will allow you to easily add a subtle yet cute effect to the newborn photos. It was created to account for all the common newborn photography problems, such as red skin. Soft color and creamy skin are guaranteed!
8. Free Cross Processing Photoshop Action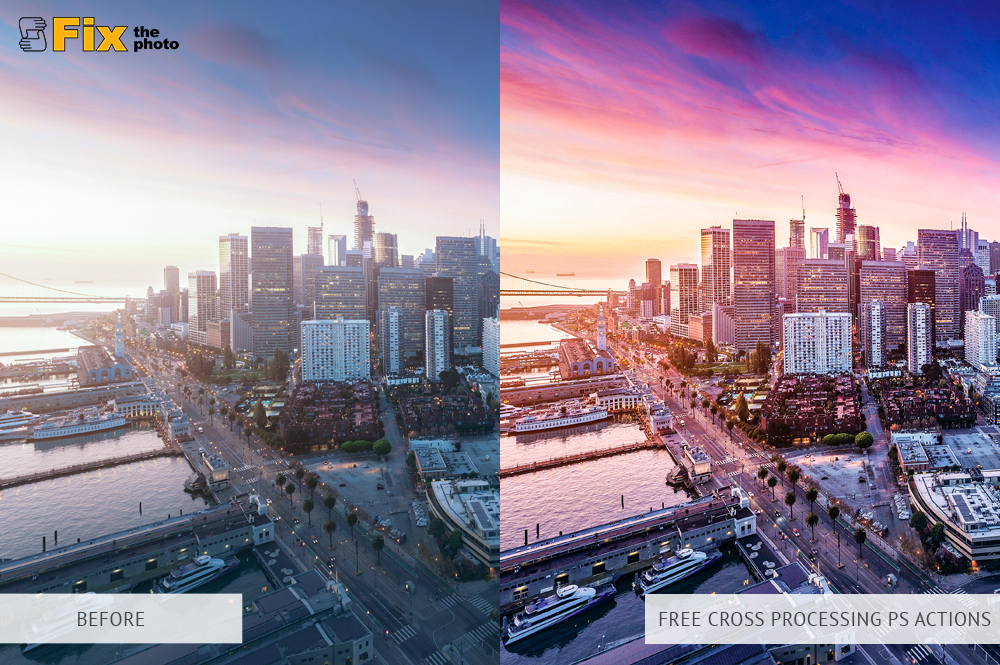 Price: FREE
Recommended: landscape, travel, architecture
Cross processing is a lengthy and complicated technique to achieve. If you'd rather skip all the hard work – this Photoshop action is for you. It enhances color depth to achieve a stunning visual effect and will instantly bring out more detail and color in your landscape photos. It was tested on multiple photos and it made even the dullest photos come to life!
9. Free Matte Photoshop Action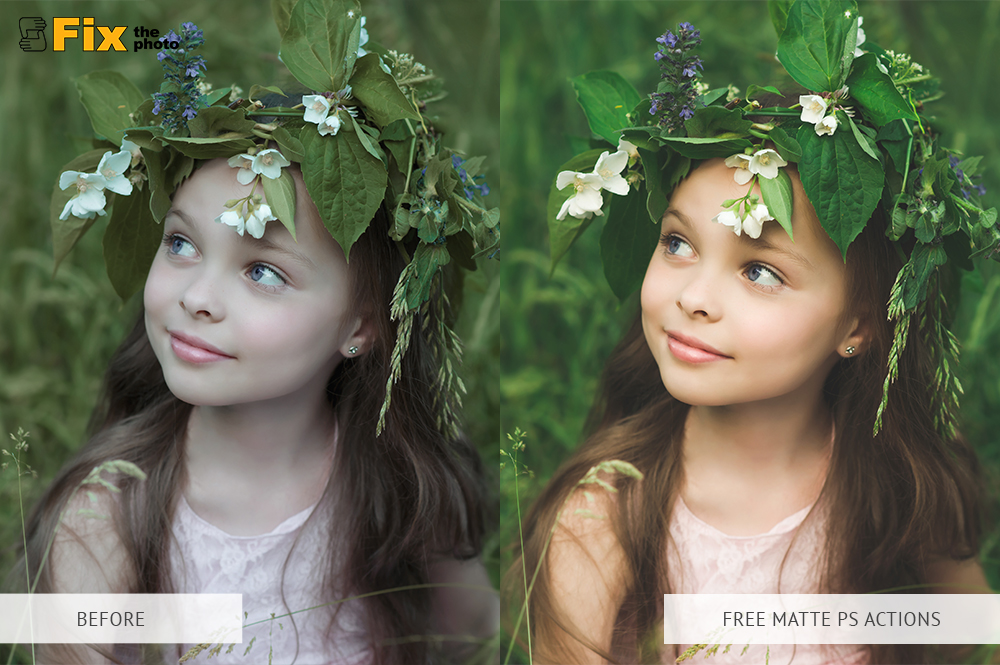 Price: FREE
Recommended: portrait, family, wedding, baby
You've definitely seen this look before. The Matte action brings out the shadow details to give your photos a faded matte look. It is also optimized to adjust the white balance, contrast and other settings of the image. The effect it creates looks unique and modern, that's why it so beloved by photographers nowadays.
10. Free Wedding Photoshop Action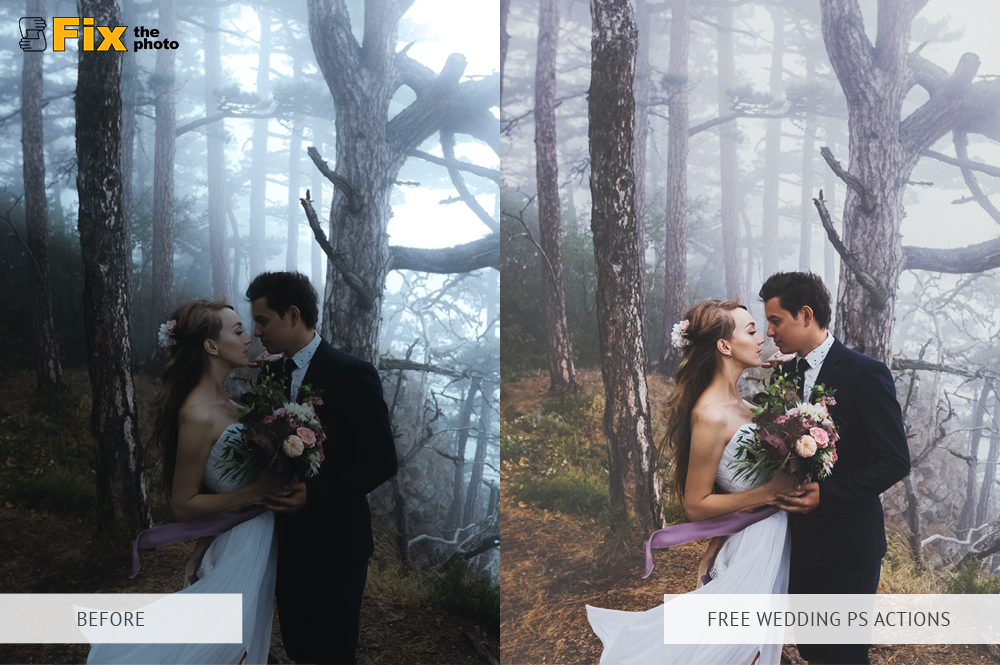 Price: FREE
Recommended: wedding, love stories
Give your wedding photos a professional touch with this action. It will let you create a gorgeous atmospheric shot with warm colors. It also will help you get that airy and refined look that many wedding photographers are struggling to achieve.
How to Install Free Photoshop Actions?
Want to give PS actions a chance, but don't know how to install them? Here're 2 detailed video tutorials that will help you install any Photoshop action on MAC and Windows.